If we asked you to pick lighting that adds sophistication and style to a room, what comes to mind? For most people, fixtures like chandeliers and stylish sconces are their immediate go-to's, but we have an opinion that might surprise you: recessed lighting!
Now, maybe you're thinking, "Seriously? Recessed lighting is just so boring!" and we don't blame you; it's gotten a snooze-worthy reputation, but design and functionality updates in recent years have made recessed lighting anything but dull! If you know recessed lights are a good option for your space but are tired of the same old standard round, white recessed can lights, check out our top recommendations to give your recessed lights a twist.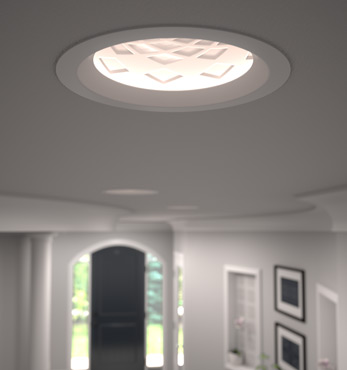 Decorative
If you're really looking to add some flair to your home without having to install hanging lights or chandeliers, decorative recessed lights are your solution! Choose from a wide variety of shapes and sizes that contain ornate detail in the light's dome to give your home a distinguished look that sets it apart. Pick a design pattern that fits your home's style and make your guests say "wow!" when they glance up! ELEMENT Reflections provide innovative, first-of-its-kind technology in architectural downlights that combine decorative recessed domes with beautifully controlled indirect, glare-free LED illumination. Watch this video to reimagine what recessed lighting can do! 
Canless
Canless recessed lighting is becoming one of our top-requested items! This small divergence from the traditional recessed light provides a sleeker look, as they lie flush to the ceiling without the noticeable pocket ("can") that goes up into the ceiling. Not only do they provide a smooth look, but canless lights are easy to wire and install. Canless recessed lights come in a wide variety of shapes, designs, colors, and sizes, so they're truly customizable to fit your space.
Swivel
Recessed lighting doesn't just have to mean a lightbulb in the ceiling that points straight down – adjustable recessed lights can swivel and turn to shed light on what's most important in your space! Swivel recessed lights are great for gallery walls, exterior porches, hallways, you name it! Anywhere that could use a little extra emphasis or corners of your home that tend to be dark can greatly benefit from the adjustable nature of swivel recessed lighting. Our favorite part of swivel lights is that they allow the lighting in your home to be dynamic; the lighting you want when hosting a party is totally different than when you're just lounging at home, and the ability to rotate and adjust the light to be directed one way or another allows for that flexibility. 
Modern
For those who crave a sophisticated style, modern recessed lighting is your new best friend. Recessed lights are the perfect complement to a minimalistic home, providing ample light without taking up unnecessary space. Install recessed lights in straight line patterns throughout your home to fully embrace the modern look and consider square or rectangular-shaped lights to take the style even one step further. 
Square
If you think recessed lights are just circles in the ceiling, think again! Recessed lighting comes in all shapes and sizes, and selecting a square or rectangular-shaped light is a great way to enhance your architectural design and upscale your spaces. Pro tip: select a shape that best matches your home's style. If you have a modern-style home with clean lines, a square recessed light might be best for you versus if you have a more traditional-style home, circle recessed lights might be a better fit. Explore around and take note of the styles already present in your home to discover the lighting style that will enhance the aesthetic you already have rather than fight against it. 
Color/Material
We arguably saved the best for last, because changing up color is one of the most effective ways to add some personality to your home! We've said it before, we'll say it again: recessed lights aren't just white! They come in a whole assortment of colors and materials, from black to silver to bronze. Black recessed lights can provide a pop of contrast to an all-white kitchen, whereas if you're a fan of metals, copper recessed lights can make a statement. Match your recessed lights to your appliances or hardware to give your home a cohesive feel or use it as an opportunity to mix things up a bit. 
Recessed lights are one of the best ways to provide your whole home with balanced lighting, and recent design upgrades in the world of recessed lighting has made it an option that's far from boring! Let our team of lighting experts help select the recessed lighting option that will work best in your home based on your style, needs, and personality. Schedule a consultation or visit us in-store to step up your home's lighting today!